Post by aluomala on Jan 21, 2019 18:37:37 GMT -5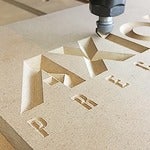 We can not cover all those products in any form of a manual in regards to rotary design.
There is simply too much in the software to cover...and by all accounts its not generally recommended until a good grasp of the software has been developed.
We have partnered with a software training company that is vetted by Vectric directly to offer training classes, which is something that has not often been offered across the industry in a class room setting, when it is offered formally...the cost far exceeds what we charge by 2-3x.
We do not expect attendees to be Axiom users, in fact many are not. But to be honest, there is little to no need in placing that information online as unless you are a direct participant in the class you will get nothing more from an internet video than you would through any of the 100+ high quality Vectric videos.
Operation of the CNC is really quite simple and should not require a video,
as the manual covers setting up a job from start to finish
...however, if videos are needed, a complete 10 video segment was filmed by Popular Woodworking and are being loaded as they are released.
I think that is either the boldest statement I have heard, barring anything that has come out of Donald Trump's mouth, or I haven't seen this magnificent piece of documentation. Please provide a link (I have copies of various files that purport to being the official manual (basic, pro, elite) and while they give a basic overview, they are far from a comprehensive document such as this).
There is nothing to say that the training has to be free. There are a brazillion guitar sites out there that you have to pay to use (whether it is a monthly thing, or a specific subject to be mastered) that produce instructional videos and the like. A nominal fee could be charged, and if you are worried about the videos being pirated, that's the chance you take. And you could end up with future customers, based on the quality of videos, instruction, etc just because people see them (for free, or otherwise) on the internet.
You guys keep doing what you're doing, but don't be surprised if/when people jump ship to companies that actually provide support to their customers. They are out there. If only there was a way to find them. Maybe a computer, the internet, and a web browser.... Eureka! I've discovered Google (about 10 years too late).
Allan